Ford Kuga MK2 16/12/2014 Titanium X Sport AWD 2.0TDCI 182PS 400Nm (T8MA) Manual Sync1
Discussion Starter
·
#1
·
Hello everyone,
Today I had problem with my Kuga.
Car wouldn't accelerate and water temperature comes up to 110°C
After cooling down a bit accelerate as normal.
Another strange thing car has a problem to warm up cabin even in setting temperature to HIGH.
Oil level high over scale, so it trying to regen DPF and oil is mixing with diesel?
Engine cooling water in correct level.
No any faults on Forscan.
(DPF_LOAD,%) after 5 minutes trip with 2200rpm comes up to 105%, then come down to 95% when slow down. It should start up regen faster, about at 70%
I guess it might be the problem with one of DPF sensor
, because (DP_DPF_2, kPa) is always 0.0.
I did 2 screenshot in Forscan:
- 1st at Low rpm:
-2nd at 2500rpm: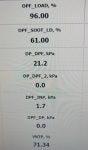 Any advice on the temat or not is more than appreciated